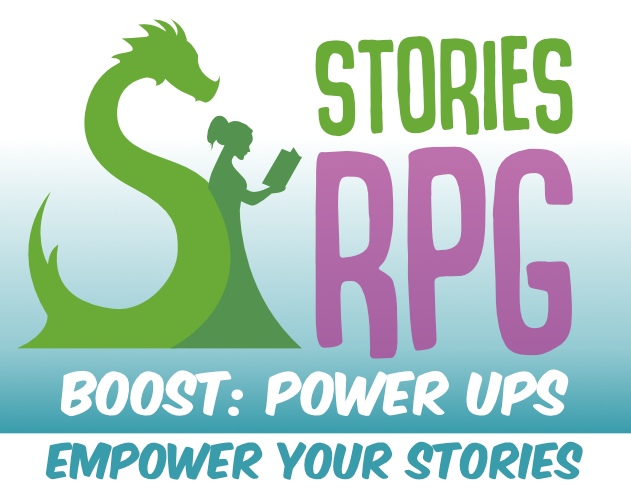 StoriesRPG - Power Ups!
A downloadable TTRPG Boost
Welcome!
This is a two-page, printable tool for tying character advancement to writing stories! By encouraging players to contribute to the world of the game with stories, celebrating them, and distributing Story Points with which to buy new abilities and re-rolls, this Boost makes TTRPGs a joyous way to link a difficult skill - writing - with the greatest reward: peer support.
As a certified teacher, I designed this approach for my TTRPG writing classes, but it can be applied to any role-playing game to help make writing rewarding and collaborative.

Though designed to work with the StoriesRPG core rules, it works with any tabletop RPG, walking you through how to ...

Create Prompts: Use what happened in your game to discuss what everyone is curious or excited to write about!
Celebrate! Read aloud and cheer for each other's work - every story adds to the world we create together!
Story Points: Discuss and decide how many Story Points each story should receive - but remember, the author gets the last say in how much they feel they've earned!
Challenges: Gain a bonus point for a writing challenge - read aloud, get descriptive, work on dialogue - and celebrate the win!
Level Up: Spend Story Points to buy new Lines for your Story, Special abilities, or re-rolls. If you're playing another game, hand out experience points, feats, skills, levels - whatever works!
This makes advancement about writing, and writing about peer recognition, giving everyone in the group a chance to be cheered for their stories and excited to share! It also empowers their abilities in the game and lets the story become truly collaborative.
Here's a quick link library for all the StoriesRPG resources:

THE GAME ...

ADVENTURES ...
COMING SOON ...
World Building: How to help kids build their own worlds, with their own lore and internal logic.
Educator's Guide: This will be a longer work, and explain, step-by-step, strategies for using StoriesRPG to teach academic content in classrooms, including Common Core Standards, assessments, pacing guides, grouping strategies, and more!
Feel free to reach out with any questions, and hope this supplement boosts your stories to the next level!
Purchase
In order to download this TTRPG Boost you must purchase it at or above the minimum price of $1 USD. You will get access to the following files:
StoriesRPG - Power Ups Boost.pdf
155 kB