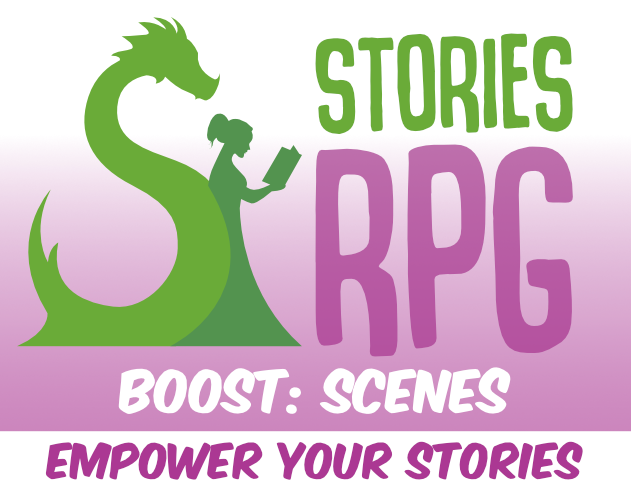 StoriesRPG - Scenes!
A downloadable TTRPG Boost
Welcome! This is a two-page, printable approach to designing engaging, dramatic scenes for any story - whether one you choose to write out, or for a story game. Though designed to work with the StoriesRPG base game, it works with any tabletop RPG, breaking every scene into four parts:
The Hook: A read-aloud description to set the scene!
Explore: A list of things to describe and questions to ask to build the scene.
Moves: Things characters in the story might try to affect the scene.
Triumphs and Troubles: A list of possible outcomes that might result from Moves.
This helps kids learn to draft scenes in a story, teaching them to think in terms of descriptive introductions (Hook), details needed to build the scene (Explore), and how characters might engage and struggle with the scenario (Moves, Triumphs, and Troubles).
As a certified teacher, this approach has helped kids in my writing classes learn narrative structure, think about scenes as more than just battle, and take the reins as storytellers of their own.
If used with another game, such as D&D, just put in Moves that make sense for the system - skill checks, spells, or abilities that might help - and Triumphs and Troubles that work ("Ouch - lose 1d6 HP as a boulder hits you!").
Here's a quick link library for all the StoriesRPG resources to help ramp up the fun:

THE PODCAST
THE GAME ...
WORLDS & ADVENTURES ...
COMING SOON ...
Feel free to reach out with any questions, and hope you enjoy the games, the worlds, and the podcast!
Purchase
In order to download this TTRPG Boost you must purchase it at or above the minimum price of $1 USD. You will get access to the following files:
StoriesRPG - Scenes Boost.pdf
153 kB